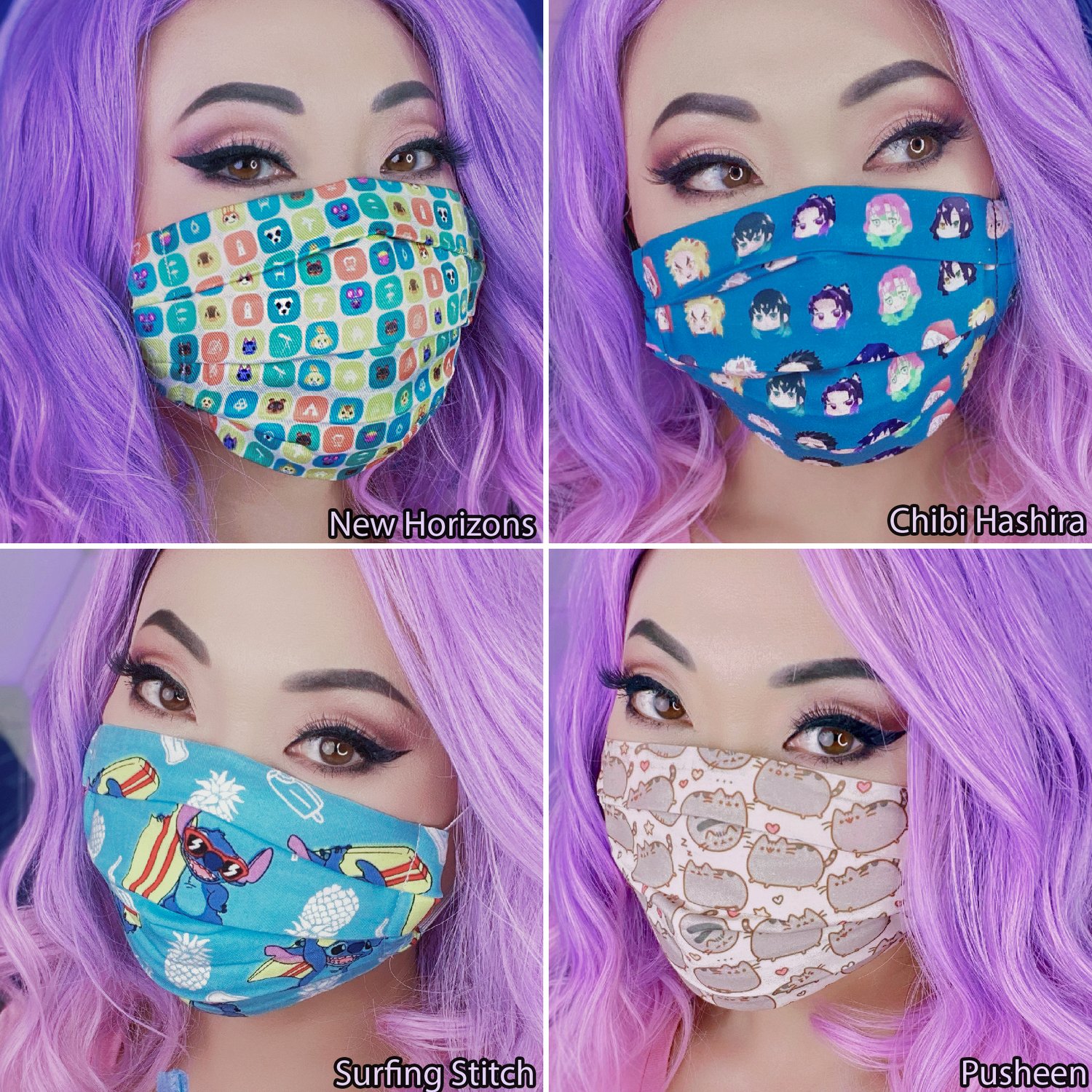 Premium Face Mask, Washable, Double-Layered, Filter Pocket, Cotton or Poly Blend
Made by professional craftswomen using tightly-woven cotton or poly/cotton blend where noted! Currently shipping twice weekly. Thank you for supporting a female-owned, US-based small business!
Our double layered face masks feature 3 downward pleats, a pocket for inserting a filter, contrasting lining color and elastic ear loops. Each mask measures approximately 7.5 inches wide x 3 inches tall, expanding to 7 inches tall in use from nose bridge to under chin. (We chose this set of dimensions as the best unisex size. Masks should not be too large or too small and should fit snugly around your face.)
Ordering notes:
We are sewing every day (while quarantining) and work hard to ship your order within 2 - 4 business days.
Elastic, lining and thread color may vary. We'll make sure everything matches well.
Print availability varies, as we add new prints periodically!
Scroll down to see all prints!
*almost gone for good* Batik Swirls, Cherry Branches, Music Notes, Tropical
If you don't see the option you're looking for in the drop-down, it means we have to make more before we restock. Please check back tomorrow!
Your order will help us fund materials and carve out time to make face masks for healthcare workers. So far, we have donated over 300 masks to hospitals and will continue to do so as long as we can source materials and the need is prevalent.
Why use our masks?
Besides being environmentally sustainable, a reusable cotton or poly/cotton hybrid face mask is easier to wear and filters better than a bandanna/scarf/folded shirt. We use quilt-quality cotton which offers particle protection to you and those around you while still being breathable. If you can't breathe well enough through a mask, you won't wear it, and that defeats the purpose. We all should wear a mask every time we are in public so comfort and quality are key.
Material notes:
We hot prewash and dry to preshrink all fabric before sewing. We iron our masks using the hottest setting with steam throughout their construction to help keep them clean and pristine. For your safety, personal masks are worn while we are sewing, and your masks are never tried on by anyone before shipping to you.
Please wash your mask prior to first wear.
Filter notes:
The inside layer opens up to accommodate a 4 inch x 5.5 inch filter. (Filter not included.)
1-time use filter pattern:
- Cut 1 of filter material - 4 inches x 5.5 inches (10cm x 14cm)
- Curve the edges in at the sides, down to 3 inches (7.5cm)
- Discard filter after each use
Please do your own research on filter materials. I like to use blue shop towels.
Mask wearing notes:
The correct way to wear a pleated face mask is with the pleats facing down, covering your nose, mouth and chin.
Regarding the elastic ear loops: make sure the mask is not too loose while wearing. If need be, tighten loops by adding a knot to the elastic.
While wearing a mask, avoid touching the mask and wash your hands immediately if you do. Be careful not to touch your eyes, nose, or mouth when removing your mask and wash your hands immediately after removing.
For additional fit, you can use double-sided tape to help close any gaps you might have between the mask and your face. You can also attach a piece of wire to help contour the nose bridge area. Remove either of these before washing.
Washing notes:
Wash your face mask after every use. A washing machine (on hot water and dry cycle) and regular laundry detergent should suffice. If you have a delicates bag, wash masks inside it to help prevent tangling.
If you choose to tumble dry your mask, it may bunch up after the cycle. You can easily iron the pleats back into your washed face mask, and I recommend doing so.
Please remember:
Masks can help protect everyone involved, but it's NOT guaranteed. It's fabric, not a hazmat suit. Wearing a mask DOES NOT mean you don't need to socially distance or wash your hands very often—doing all three together is essential!
Disclaimers:
Masks are non-exchangeable/non-returnable for obvious hygiene reasons.
These masks are meant for personal use only and not intended to be used as medical-grade face masks.
Please read information from trustworthy sources about masks so you can make an informed decision.
The Centers for Disease Control (CDC) recommend wearing cloth face coverings in public settings where other social distancing measures are difficult to maintain (e.g., grocery stores and pharmacies), especially in areas of significant community-based transmission. We encourage users not to circumvent the proper safety protocols of social distancing, quarantining, etc. suggested by the CDC. These masks are meant for personal use only and not intended to be used as medical-grade face masks or as a replacement for N95 respirators as effective measures to prevent disease, illness, or the spread of viruses.
Learn more CDC face mask recommendations and FAQs